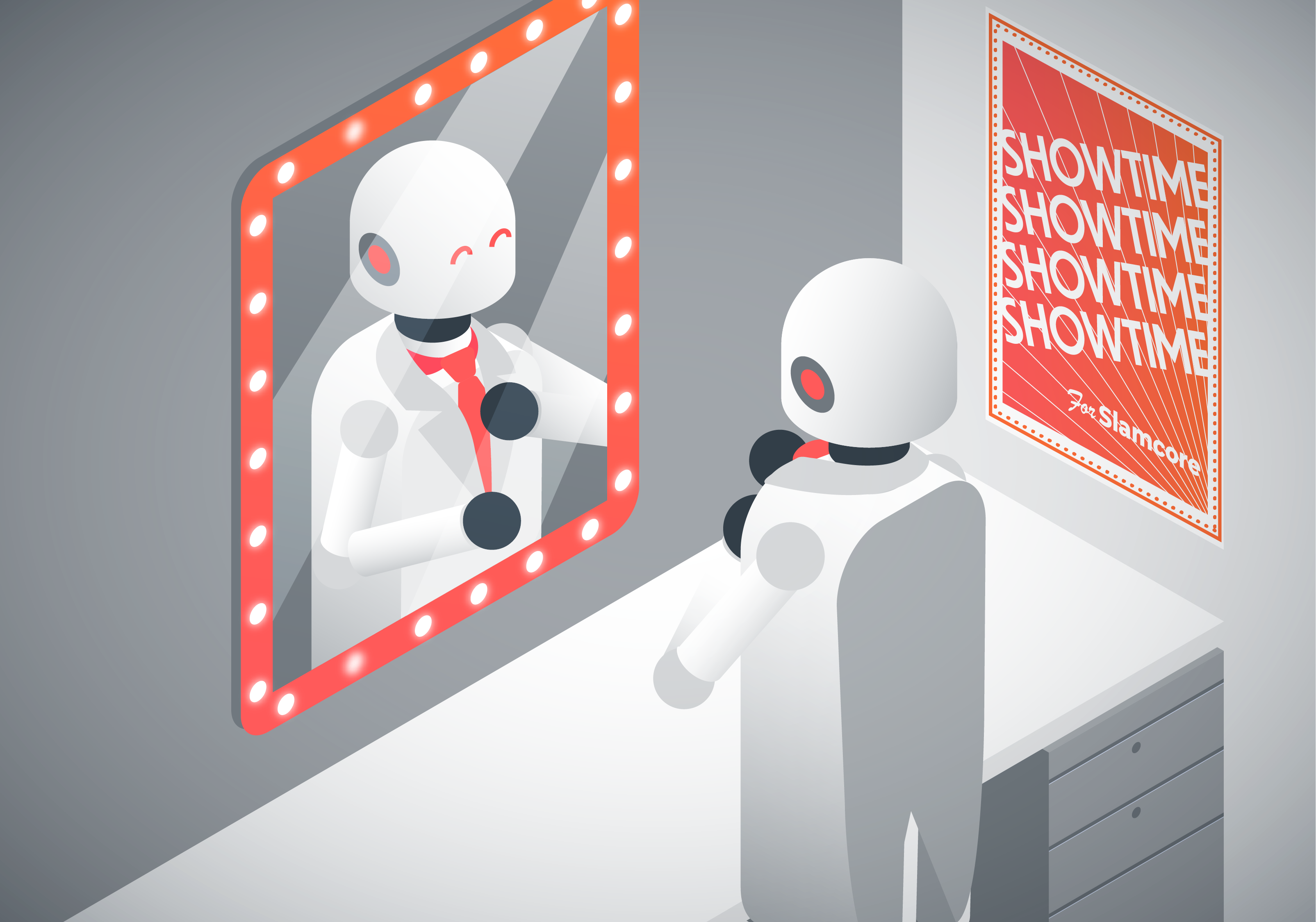 We're excited to share the new Slamcore brand with you. Created over the last few months, it reflects our ambition and outlook as a leader in visual spatial intelligence. Designed in partnership with leading branding firm Fabrik, the new look and feel you can see across our website underlines our dynamism and confidence in Slamcore and its contribution to a rapidly growing and increasingly important sector.
The past 12-18 months have seen huge progress and changes at Slamcore. In that time, we launched our first commercial products, won customers, secured Series A funding (bringing our total to $30M USD), and grew from a small team to a company of almost 50 people.
We've also seen a significant diversification of our market. Our initial focus was to develop SLAM algorithms that would democratize access to robust, accurate, and fast mapping and localization for robot designers. Now spatial intelligence has a critical role in a wide range of applications, from industrial robots to consumer devices operating in and around our houses and wearable devices that allow people to navigate the emerging metaverse safely.
Our new brand recognizes this change and looks to the future, where we collaborate with a wide range of developers to help bring next-generation spatially aware products to market faster and more cost-effectively.
Our purpose remains the same – we believe that a wide variety of spatially aware products will transform how we live and enjoy our lives. We are committed to working with partners and manufacturers to make amazing things happen. Our algorithms reduce barriers to entry and help anyone, from disruptive start-ups to industrial giants, short-cut development times and overcome complex edge-case spatial intelligence challenges.
The new Slamcore brand crystallizes and promotes the brand values that have always driven us.
Empowerment: our software helps others to deliver better spatially aware products faster.
Ingenuity: we relish overcoming the difficult spatial intelligence challenges so that our customers don't have to.
Accuracy: we are obsessed with precision and know that the last 10% is the hardest and the most critical.
Portability: no two smart machines are the same but we create software to be optimized to any hardware configuration.
Collaboration: our software is a critical piece of the puzzle, but only one piece. We work with our partners to make their amazing products spatially aware.
Fabrik has created a new visual identity for Slamcore that highlights these values and our growing perception as trusted experts in the complex area of spatial intelligence. A new logo, typeface, color scheme, and tagline, "Spatially Intelligent," all build on the heritage of Slamcore while looking to a bold and exciting future. The vibrant coral and contrasting slate of our new primary color scheme, combined with striking gradient effects, make the new brand pop and stand out. They suggest optimism for the future built on solid and reliable foundations. Our logo's stylized 'S' is made up of a vivid dot protected by two reassuring slate grey brackets. It not only hints at the central role of vision in our spatial intelligence, but the critical role we play in guiding robots, devices, and people safely through dynamic real and virtual environments.
Perhaps most importantly, the new brand accentuates the human nature of Slamcore. For all our work with autonomous machines and devices, we remain one hundred percent focused on people. We are committed to helping create the next generation of spatially aware products that are designed for humans. And the people at Slamcore remain the most essential part of our brand.
With Slamcore, you not only get a team that represents the best of the best in spatial intelligence who are motivated and have the ability and experience to solve the most complex of visual SLAM challenges but a group of individuals dedicated to delivering the best possible outcomes. They are ambitious and driven to constantly improve, overcome obstacles and create ever more accurate, capable, and powerful solutions. But they are also team players, committed to working together with customers and partners to find efficient, cost-effective, commercial-scale solutions that help get useful, spatially aware devices into markets faster.
Trust must be at the heart of any brand, and Slamcore is no different. Our reputation for accurate, robust, and reliable solutions is the foundation upon which our success is built, and the new brand changes none of that. We will always back up everything we claim with data, evidence, and real-world proof. Our brand and people strive to be helpful, friendly, reliable, and inclusive in every way, every day.
These elements will continue to shine through our new brand, and we hope you like it as much as we do. Drop us an email or tweet us to let us know what you think of our new look!
Ends
🤖