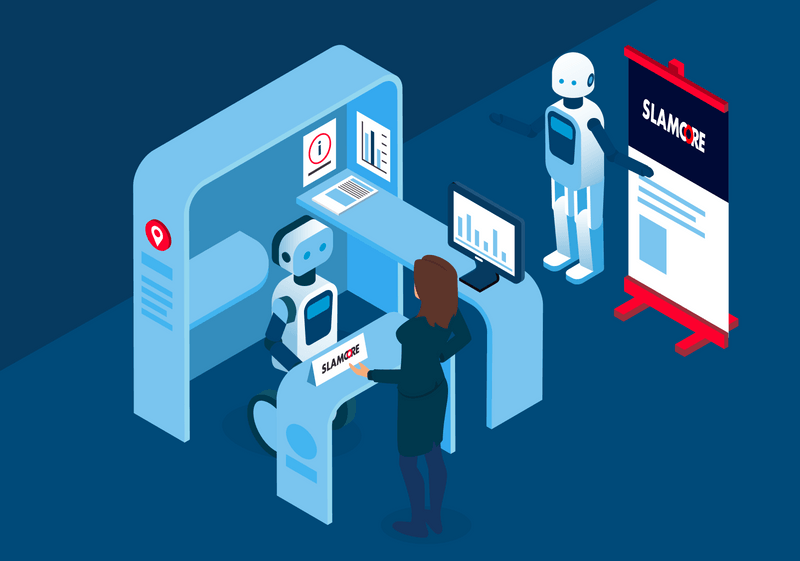 Last month, I attended AWE USA in Santa Clara for the first time in 3 years and for the first time on behalf of Slamcore. I was eager to re-immerse myself in the world of Augmented, Virtual, and Mixed Reality (collectively referred to as XR here). As the use cases of XR become increasingly sophisticated, the role of spatial intelligence becomes more and more critical. So it was with keen interest that I set out to re-experience this event, see firsthand how much progress had been made over the last three years, and gain valuable insights into XR's future.
‍
‍AWE is the premier event for anyone involved in the rapidly developing world of Augmented Reality. Launching in 2010, AWE sought to accelerate the adoption of AR by bringing together all aspects of the industry; developers, creators, founders, product leads, executives, enthusiasts, media, and analysts. The first event attracted some 300 delegates and has grown consistently since, with this year seeing over 5,000 attendees, more than 250 exhibitors, and more than 400-plus talks, presentations, and demos.
The event felt familiar, with many of the same faces and businesses attending yet fresh. XR continues to attract young and diverse creators and innovators. Alongside familiar, albeit improved, products, there were lots of new immersive experiences delivered on new hardware.
Encouragingly, a record 150 start-ups attended this year. Equally crucial for the industry, diversity was increased; over a third of speakers were female.
‍
Enterprise rather than consumer
AWE is an excellent indicator of how the XR industry is developing. It is clear from the exhibitors and visitors that currently, the market is dominated by enterprise use cases and the devices, applications, and services being delivered and developed to support them. Consumer AR is very much on the periphery, and my impression is that we are still some years away from being able to experience AR on a device ready for mass adoption. Notable highlights in the enterprise space include:
Lenovo's ThinkReality A3 attached to a Motorola smartphone is a capable platform for a multitude of future AR applications & services. (UltraLeap's hand tracking is very good, and they had it on three platforms (Varjo, Lynx, PicoVR) either fully integrated or as an aftermarket add-on.)
Realwear's deal with Ford to deploy 3000 HMT-1 devices in dealerships across North America. Its Remote Expert application, which allows a domain expert to See-What-I-See and assist a local technician, is an excellent example of the most common enterprise AR use case today being deployed at scale.
Seeing the market direction, Magic Leap has shifted focus to enterprise and, demoing the new ML2 product to positive reviews, is increasingly pushing open platforms (AOSP) & standards (OpenXR). Long queues to try out their demos.
Qualcomm was everywhere and is currently the SoC vendor for many XR devices. It announced a widely welcomed $100m Metaverse investment fund. But I expect more competition in the future as other SoC vendors recognize the growth opportunity in the XR space as we advance.
This one is not enterprise space, but I must shout out Tilt Five. Great product offering an amazingly immersive gaming experience. I was delighted to try this out finally and can't wait till it is back on sale after their successful Kickstarter shipped.
‍
Slamcore's Extended Reality
This brings me to Slamcore's value in this market and its positive impact on future XR use cases. Most AR devices shipping today are capable of supporting helpful, albeit simplistic applications & services. More akin to a Heads-Up-Display than what most people would describe as an AR headset. But XR is a fast-evolving sector, and devices now appear with the hardware to support much more sophisticated use cases. These use cases fundamentally require visual SLAM and AI., Some examples of these were on show at AWE fromform companies such as Magic Leap, Lenovo, Lynx, etc.
Slamcore is already working with visionary partners on integrating our Spatial Intelligence to deliver the fundamental capabilities of visual SLAM and AI into their future XR products. Our world-class, low-power, accurate & robust visual SLAM, developed over millions of kilometers of testing, will accelerate XR deployment at scale. And when combined with our 3D mapping, segmentation & classification capabilities, it will provide the Spatial Intelligence that is the core of the next generation of highly immersive XR use cases.
‍
Great to be back
My three days at AWE USA 2022 flew by. It was great to be back, immersed in the world of XR, and it was positive to see how things have progressed while we've all been away from these types of gatherings (thanks, COVID-19). Seeing so many good talks, demos, and enthusiastic presenters was excellent. It was great to meet with our fantastic partners and catch up with many people I've not seen in person for a long time. It was great to meet many people for the first time—well-done, AWE, for a great event.