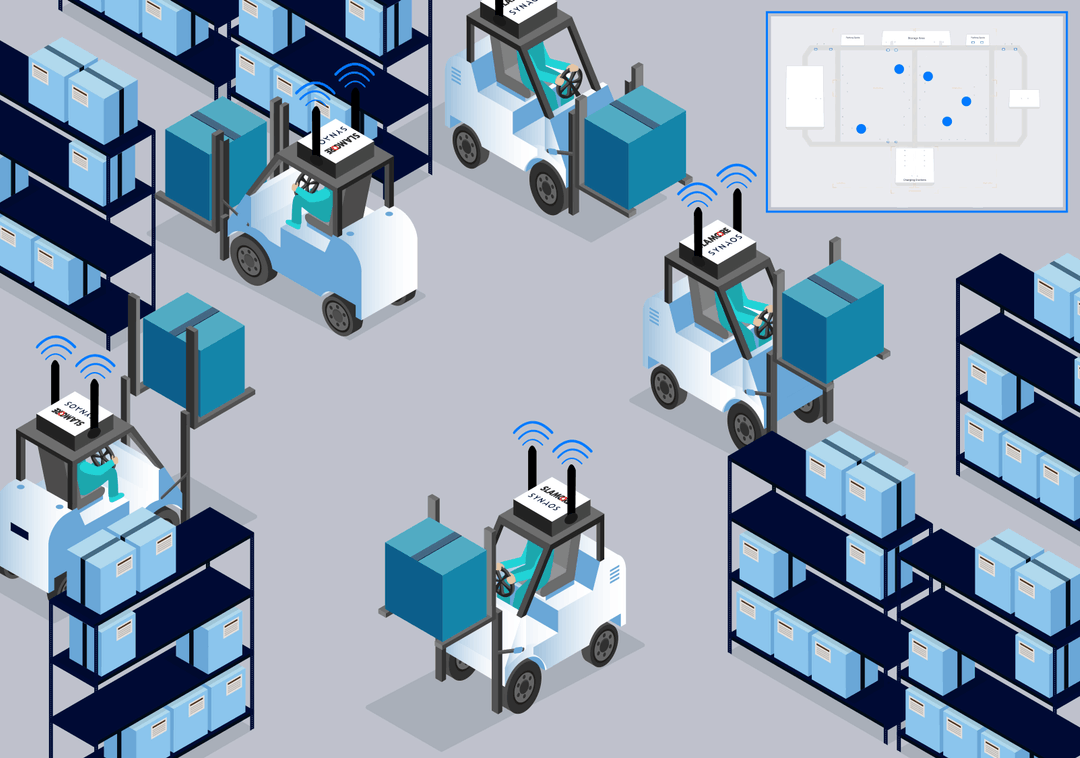 Working with SYNAOS, Slamcore develops 'Localization and Mapping-in-a-box' device for manually guided logistics vehicles
Efficiency is key in manufacturing and logistics. Today's digitized businesses still rely on just-in-time supply and fulfilment processes and no matter the level of automation goods and materials must be physically moved. Robots utilizing visual SLAM to map and locate themselves autonomously are playing an ever-greater role in this essential part of the economy. Goods to human robots are speeding up fulfilment centres whilst making the work safer and less physically demanding for people. But even with this progress, according to a recent study by INFORM, in 2021 driverless transport systems only carry out 25 percent of all transport tasks for intralogistics. Forklifts and other vehicles driven by humans still make up most transport in and around logistics and distribution centres.
Our strategic partnership with SYNAOS, announced today, is designed to target this market with an innovative solution that will allow firms to track and integrate the real-time location and operation of all assets, autonomous and manual and so plan and deliver more efficient operations.
Two Leaders Collaborate
SYNAOS was founded in Germany in 2018 by executives from leading automotive firms with the goal to leverage the power of AI to develop smart software solutions for logistics centers and factories. SYNA.OS LOGISTICS provides real-time optimization to improve the entire logistics process by analyzing and modelling routes and utilization of logistics assets.
One significant challenge today is how to integrate both manually guided vehicles, such as forklifts, and autonomous vehicles into single management systems for logistics and manufacturing environments. Slamcore and SYNA.OS have collaborated on an innovative product that cost effectively adds spatial intelligence to manually guided vehicles allowing orchestration of their position and routing. SYNA.OS VIEW is a single unit that can be added to existing forklifts, vehicles, and machines to provide accurate real-time locations. The unit uses low-cost stereo cameras and an IMU sensor running on a small, embedded computer and can be simply retrofitted to most vehicles.
Our spatial intelligence algorithms take data from these sensors to provide robust and accurate information on the precise location of the vehicle in real-time. Our Visual Inertial SLAM is integrated with SYNAOS' onboard software to constantly communicate with the SYNA.OS LOGISTICS control system through a standardized interface (VDA 5050).
Visual SLAM for real-world environments
By adding our Visual SLAM capabilities to manually controlled vehicles we are creating huge opportunities to improve real-time planning and management of intralogistics in dynamic real-world environments. As industries and sectors embrace automation the ability to provide unified location and mapping in mixed systems of autonomous and manually piloted vehicles will be fundamental in creating safe and efficient environments. Which is why we are so excited to be partnering with SYNAOS. The combination of our expertise in visual SLAM and spatial intelligence with its wide-ranging logistics knowledge, experience and solutions brings new capabilities to this vital sector – and establishes a new price-point for these products.
Until now, the position of manually guided vehicles like forklifts could only be determined if the vehicles were fitted with expensive UWB positioning or LiDAR systems, often costing up to 15,000 euros. The cost of the SYNA.OS VIEW camera-based system is significantly lower, offers a wider range of potential applications, and can be easily installed on all kinds of vehicles.
More transported, safely, in a shorter time
Localizing manually guided vehicles constitutes a major step towards transparency in intralogistics traffic and processes allowing entire manual vehicle fleets to be "digitized" in a straightforward, fast and cost-effective manner. Equipping manual systems with the SYNA.OS VIEW solution has an immediate impact: transport orders can be managed much more precisely; potential delays are detected early allowing rapid rescheduling; both autonomous and manual vehicles can be optimally coordinated in the traffic management system, reducing accidents and interruptions. In short, more goods can be transported, safely and in a shorter time. These advantages mean that SYNAOS achieves up to 30 percent higher capacity utilization of vehicles whilst reducing delays by up to 60 percent.
Visualizing the future
But this digitalization will not only improve current operations. Our mapping and location data, plus additional analytics and statistics will feed into the SYNA.OS LOGISTICS system to visualize the real-time operations and create digital twins of facilities. Constant improvement of intralogistics processes makes a variety of operational applications economically viable that were not profitable in the past.
New market, new opportunity, new data
This strategic alliance is an important milestone for Slamcore. Embedding our spatial intelligence into a modular product that combines accurate and robust SLAM with a comprehensive logistics planning and orchestration solution will provide this vital sector with a powerful tool to improve operations. SYNAOS is already in conversations with logistics operators, as well as manufacturers of logistics vehicles to fit the SYNAOS VIEW module to their fleets. Not only does this open an exciting new market opportunity for Slamcore, but it will also add significant new data which can be used to further enhance our own AI and neural network performance benefiting all of our customers. This is a big step for Slamcore, and for the robotics industry, and I look forward to sharing our joint customer wins and case studies with you soon.