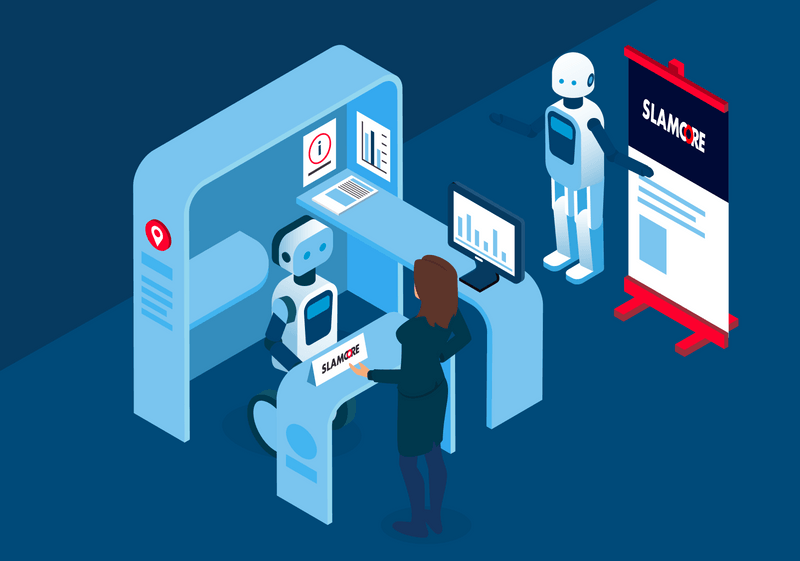 A week on from CES 2023, and my head is still reeling. I've attended CES for the last decade and always return excited by the whirlwind of new announcements, conversations, inquiries, and opportunities it delivers. But I've never had the levels of interest and attention I witnessed in Las Vegas last week. As expected, this year, CES was back to pre-COVID numbers. There were, of course, numerous announcements in the hot areas of relevance to Slamcore including the metaverse and mixed reality as well as both consumer and industrial robotics. But this year was different for me, for Slamcore, and for the industry in important ways.
‍
Whereas in the past, it was I who knocked on people's doors and enquired about emerging technology; this year, I experienced the other side of the experience. This year, the Slamcore CES team hosted more than forty high-level meetings with prospective partners and customers eager to see our algorithms in action and emerging with a genuine excitement for the future of spatial intelligence.
‍
What drove this interest? It is clear that the industry expects a new generation of spatially aware products to be the next big thing. And there is increasing recognition that flexible, cost-effective, and widely deployable visual spatial intelligence solutions are fundamental to these next-generation products. Our diaries were full of meetings with those looking to build accurate and robust yet low-cost wearables to access the metaverse, increasingly capable robots, drones and other autonomous machines to help in the workplace.
‍
The other significant change was that Slamcore is now perfectly placed to meet these requirements and deliver exactly the solutions these customers want. My goal has always been to grow the market for spatially intelligent devices by bringing solutions to those without the deep pockets or resources available to develop their own localization, mapping, and perception solutions. We now have the products, the people, and the funding to do exactly that.
‍
Our CES demos showed our software working seamlessly with a range of low-cost sensors from Intel RealSense and Luxonis and silicon from the market leaders, including Qualcomm, MediaTek, Nvidia, Ambarella, Texas Instruments, and of course the Raspberry Pi, which we demoed previously at CES. This range is essential as it provides our customers with real choices as to how to deploy spatial intelligence.
‍
In our suite at the Venetian towers, we showed Slamcore in action on wearable XR headsets, consumer robots such as domestic vacuum cleaners, industrial vehicles, and service robots. We demonstrated the three levels of spatial intelligence that answer the fundamental questions which must be answered by any spatially aware device – where am I, what is the space around me, and what are the other objects in that space? The answer to this last question was wonderfully illustrated by a service robot running our full-stack spatial intelligence, which uses neural networks to accurately perceive and label individual objects. Using this information, the robot navigated around the room, not only avoiding obstacles but reacting differently depending on what those obstacles were: for example, by giving humans a wider berth than static objects such as chairs and tables.
‍
Feedback from the many senior executives we met was incredible. From global industrial leaders to specialist silicon developers and start-ups building next generation products, they saw how our spatial intelligence solution can be easily adapted and ported to a wide range of products meeting diverse requirements. And this was the final difference for me this year. It seems that the market has taken a step away from one dominated by a few mega-players with immense financial and intellectual resources to a vibrant ecosystem that supports rapid innovation and development. I expect the next few years to be characterised by significant progress and diversity of products fulfilling a wide range of needs. Access to cost-effective, high-quality, adaptable spatial intelligence will drive this market, and I'm confident that Slamcore will be at the heart of this. All the pieces are in place to get this party started. We have the products, the partners, and the interest to catalyze the whole ecosystem, and I am extremely excited to kick things off and see what 2023 has to deliver.
‍
Of course, you cannot have a party without the people, and I'd like to take this moment to thank everyone at Slamcore for their massive efforts and commitment to get us to this stage. Not just their consistently brilliant work over several years to build the foundations but going above and beyond over the past weeks to deliver a fantastically successful showcase and the platform for an amazing 2023 -thank you all!