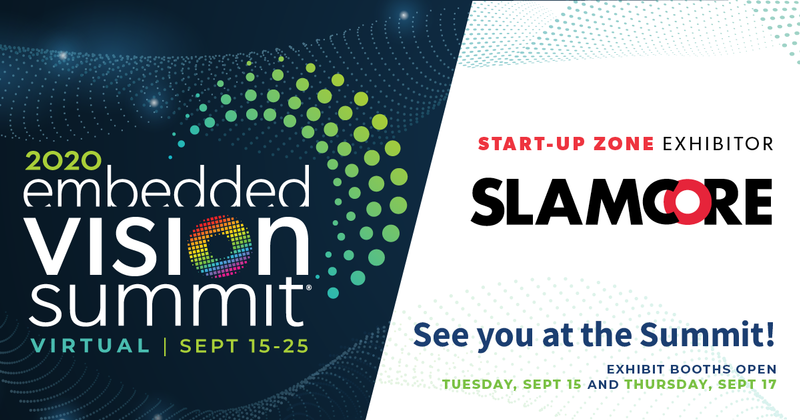 As winners of the Vision Tank Start-Up competition in June, we are delighted to have been invited to exhibit at the Embedded Vision Summit which runs from 15th to 25th September. This year, due to COVID-19 it will be an entirely online event. The advantage is that it is easy to visit and you can meet up with the SLAMcore team using the virtual networking and event app. As exhibitors we can offer you a 10% discount to attend. Just use Promo Code MEMPARTNER20-V when you register at the Summit website. No need to travel, just pop into our virtual booth.
The Embedded Vision Summit is the premier conference for innovators adding computer vision and AI to products. Each year it brings hundreds of product and application developers, business leaders, investors and customers together to discuss, demonstrate and experience the latest in embedded vision in PCs, wearables, mobile and embedded systems including the latest advances in robotics.
I will be there (virtually) with the SLAMcore team and will be demonstrating our latest localization and mapping solutions using a range of hardware and processors including Raspberry Pi 4 and NVIDIA Jetson TX2. We now support an increasing range of hardware configurations including processors from Qualcomm and cameras from Intel RealSense.
We will be making further exciting partnership announcements at the Summit so stay tuned.
I have also made a series of videos that demonstrate the key aspects of the SLAMcore Spatial AI software in providing robots the ability to position, map and understand the physical environment around them. These will be shared on our social media feeds throughout the summit. Please make sure you are following @SLAMcoreLtd on Twitter, on Facebook, LinkedIn and YouTube and look out for the videos next week.
We will also demonstrate and discuss the award winning SLAMcore SDK and show how it provides robot developers with access to algorithms that deliver accurate, reliable and robust simultaneous localization and mapping (SLAM) in real time across a broad range of robots. Integrating our tried and tested solutions rather than developing in-house SLAM can deliver better, faster, more cost-effective results.
It is shaping up to be a busy and exciting couple of weeks and I hope that you will be able to join us in our virtual booth. To make an appointment please get in touch here.