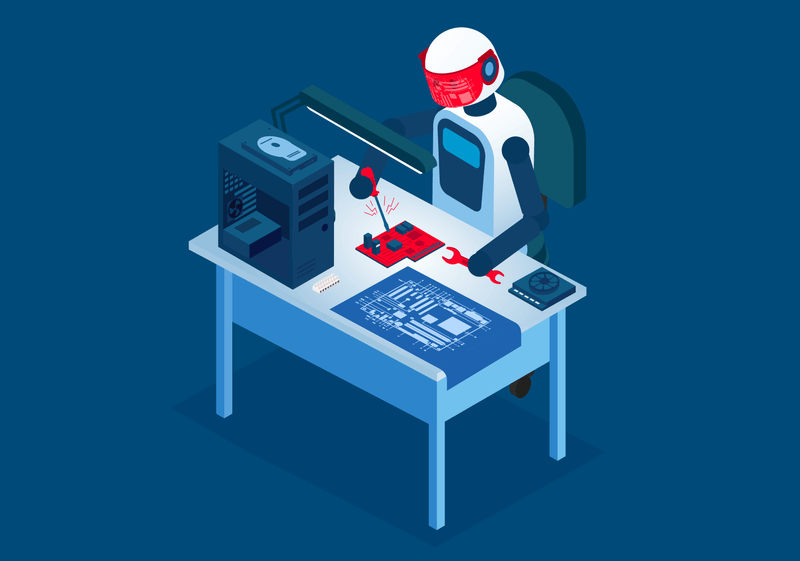 Leading the team working with Meta to help its amazing Bombyx robot understand its surroundings has been one of my career highlights so far. So when people ask me about my role here at Slamcore, I usually start by telling that story.
‍But in reality, my role is broader, more complex, and more rewarding. From digesting the latest research to writing code that helps real robots complete essential tasks, everything depends on the quality, enthusiasm, and can-do spirit of the team around me.
It is a cliché that no two days are ever the same, but it is undoubtedly the case at Slamcore. As Deputy Head of Research and Development, I move between pure research, theorizing the next generation of Visual Inertial SLAM, to putting current thinking into practice by coding the products that our customers use to solve SLAM issues in multiple applications. At the same time, I'm leading a team, mentoring an intern, and generally finding ways to be as valuable as possible. It's high-paced, high-impact, and gratifying.
The consistent theme that pulls all this together is knowing that I'm doing things that matter. After a degree in maths, and a Masters in Computing, like many of my peers, I fell into IT. Working with big established consultancies, I was a small cog in a big machine. So I decided to do something more exciting and got a job in computer games, coding AI and gameplay for console and PC games. After a few years in the games industry, I decided to return to university to study for a Ph.D. in Computer Vision at Cambridge.
This led me to a job at Sony, developing computer vision for computer games, specifically augmented reality. Fast-forward five years, and I was at a mobile AR company. Despite its attractions and the development of technology, I became frustrated by the inconsequential nature of my work. It felt like I should be using my skills to apply these incredible technologies to things more important than selling more consumer goods with virtual products popping up in AR scenes! I was lucky enough to have met Pablo Alcantarilla during some consultancy work and needed no persuading when he suggested I apply to join Slamcore.
The company's mission to "Make quality spatial Intelligence available to all" is deeply entwined with the belief that robots and other autonomous machines can be a powerful force for good in the world, helping solve some of the most pressing problems we face. This was the relevance that I craved from my work. And now I see that impact every day.
I have worked in teams developing dense mapping, device calibration, and next-gen features using deep learning to add semantic understanding to mapping and positioning. Now, leading the Meta Bombyx project team, I see the technology delivering real-world value. Bombyx is a robot that 'spins' fiber optic data cables around standard electricity cables to provide internet connectivity to rural communities across Africa.
The robot will transform people's lives in some of the world's poorest and most remote communities. Slamcore's software provides Bombyx with the ability to perceive its environment and navigate it, so we can all see the immediate value our work can deliver. The speed with which Slamcore can move from theoretical potential to real-world benefit is one of the most exciting aspects of working here.
The reason Slamcore can deliver this is the great people it employs. Not just the world-leading PhDs like Pablo, but an ever-growing number of brilliant, dedicated researchers, developers, and product and marketing specialists enthusiastic about being involved in projects that matter. Many could have gone to work for the mega multinationals that dominate the tech world, but instead, they chose Slamcore.
As well as the attraction of immediately seeing your work solve essential challenges for customers, there are the advantages of a fast-moving, entrepreneurial early-stage business. Not only are there opportunities to get involved in a broad array of technical challenges, but many ways to add personal value to projects across the company. There is enormous trust in staff to deliver effective solutions. This goes beyond flexible hybrid working. There is no micro-management or looking over your shoulder to see what you are doing; everyone here is respected for their skills and experience and allowed to get on and deliver what they need.
Since I joined Slamcore in November 2018, the business has grown in profile, scope, and scale. Our ambition to democratize access to visual SLAM that works in the real world is undimmed. My excitement to lead and contribute to projects at the cutting edge of spatial intelligence continues to grow. Crucially, this excitement is matched by opportunities to learn and develop so that personally and as part of great teams, I know that I'm contributing to work that really matters every day.