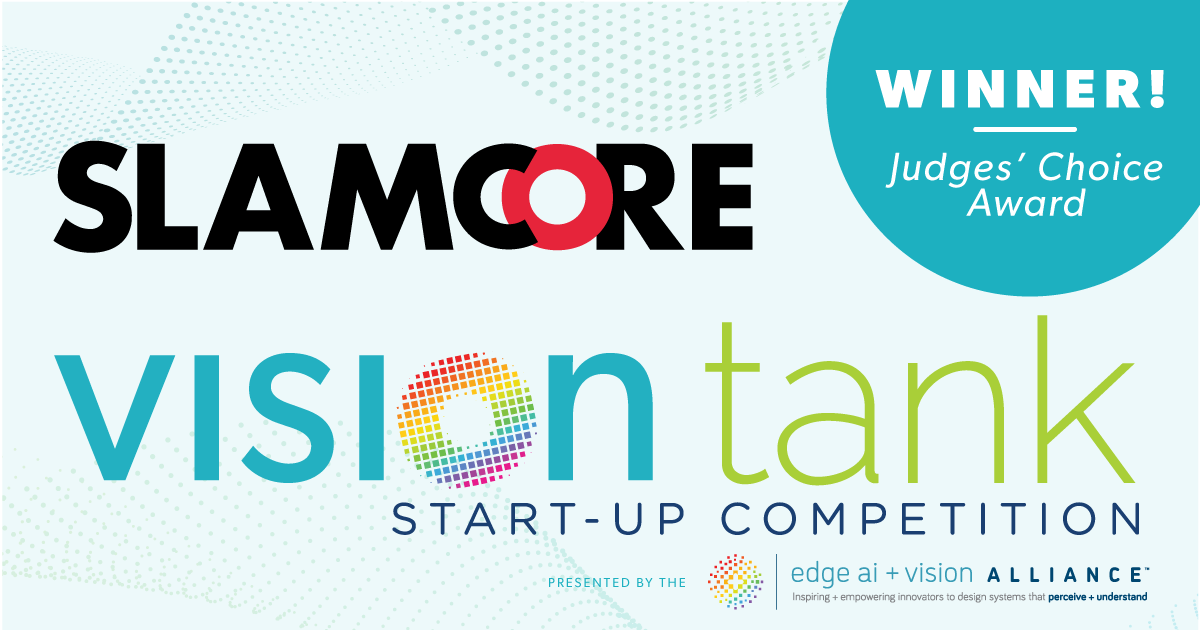 Last week I presented to the judges at Edge AI and Vision Alliance as one of the finalists in their global Vision Tank Start-Up Competition. The live final took place as a series of 3 minute live, video presentations to the judging panel with 5 minutes of questions. I am pleased to announce that SLAMcore won the Judges' Award as the best new venture solving real-world problems with AI. Congratulations to Eyedaptic who won the Audience Choice Award at the same event.
The Edge AI and Vision Alliance is a worldwide industry partnership linking businesses across the industry to develop innovative and practical solutions using computer vision and edge AI. As award winners SLAMcore automatically becomes a member of this globally recognized alliance providing opportunities for us to share, discuss and test our solutions with a wide range of fellow-members.
Jeff Bier, founder of the Edge AI and Vision Alliance, said: "We received dozens of strong entries for this year's Vision Tank Start-Up Competition. I congratulate SLAMcore for distinguishing itself among this strong competitive field, and look forward to helping the SLAMcore team bring its plans to fruition."
My presentation, which you can see here, outlines how our Spatial AI SDK will transform the robotics industry. With new applications for robots emerging daily, accelerated in many cases by the demands of a post-COVID world, there is an increasingly pressing need to speed up the development and deployment of capable autonomous mobile robots. The challenge in doing so is two-fold. Cracking simultaneous localization and mapping (SLAM) so that robots can accurately identify where they are, create maps for navigation and understand the different objects around them in real-time is essential for mobile robots to function in complex, ever-changing real-world environments. It is also very hard to do. The second challenge is that in an industry made up of thousands of micro-niches, developers are all focused on solving these SLAM challenges for specific use cases and specific robots. Each solution is optimized for one set of hardware and a single application. Huge amounts of time, effort and money are spent on single point solutions.
The SLAMcore mission is to make quality spatial AI accessible to all and to unlock the huge market opportunities in robotics with robust SLAM algorithms that can survive in the real world. The SLAMcore SDK which won the Judges' Award does exactly that. It is a set of algorithms that blend data from a range of sensors allowing a robot to tackle positioning, mapping and object recognition together in real-time. It can be integrated into virtually any mobile robotic design helping to accelerate the development of robots that can help in numerous different scenarios. The SDK can be downloaded and installed in a matter of minutes saving developers months, if not years, of time creating their own solutions.
Open Source SLAM solutions exist that meet many developers' requirements. But the success of the robotics industry depends on choice between the best combinations of open-source and proprietary solutions; our SDK adds to that selection and fills some important gaps for developers looking to scale to real-world deployments. We are working closely with a small number of hardware companies to ensure tight integration and excellent performance at commercially viable scale. The SLAMcore Spatial AI SDK works with Intel's RealSense D435i sensor out of the box. We are carefully assessing emerging hardware options and will work directly with other best of breed partners to expand the range of high quality yet affordable SLAM solutions the industry is crying out for.
Demand for robots that can provide solutions to pressing human-scale problems is exploding. The industry needs to rapidly evolve from a monolithic, siloed structure that develops expensive robots for dedicated tasks, to an ecosystem that can use and reuse flexible building blocks to create better, more cost-effective robots, faster. The award from the Edge AI and Vision Alliance is recognition that our Spatial AI SDK is an important element in this emerging ecosystem. Our vision, our innovations and our commercial terms are all aligned to catalyse the industry to deliver a real and positive impact on society.
Thank-you to the judges at The Edge AI and Vision Alliance for your vote of confidence in our technology and our approach at SLAMcore. We look forward to working with the Alliance members and the wider industry over the coming months to integrate our Spatial AI SDK into many more robots.