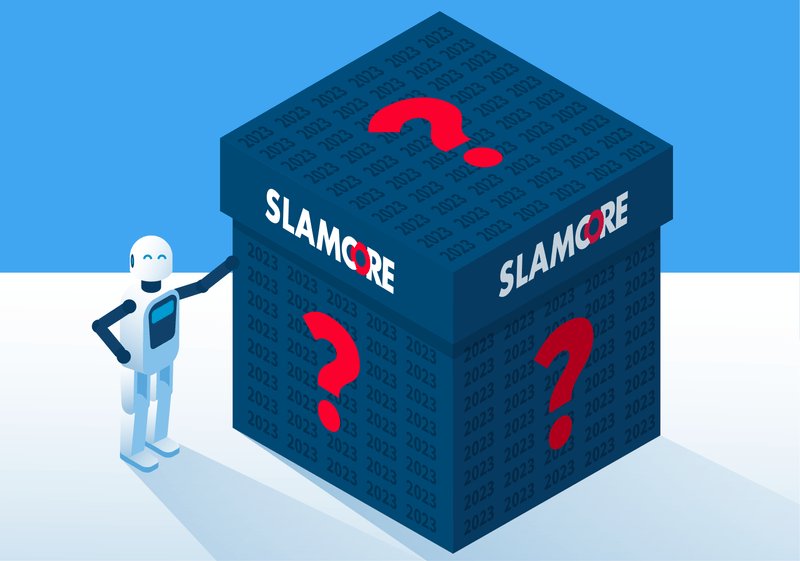 Looking back over the past 12 months one word springs to mind, acceleration. On every front, Slamcore has made rapid progress during 2022 and is looking to 2023 full of confidence. We've pushed the pedal in terms of securing funding, winning new customers, and expanding and winning awards with others. Robots and devices running our algorithms have now completed 12 million meters of autonomous journeys supported by accurate and robust mapping and localization across a wide range of real-world environments. Our team has grown in numbers, and our geographic reach has extended. On the product front, we've seen an exciting diversification with our algorithms now providing essential localization, mapping, and semantic labeling capabilities for virtual and mixed-reality wearables.
‍
Series A vote of confidence
‍
Securing $16 million in series A funding in May was a massive endorsement of our product and commercial progress. With early investors, including Amadeus, MMC, and Octopus continuing to support us and with a raft of new funders, including strategic investments from Samsung Ventures and Yamato Holdings, the raise exceeded our expectations. Not only does it secure capital for the next wave of expansion and commercialization of our cutting-edge algorithms and spatial intelligence software for the robotics and emerging XR markets, but it is a huge vote of confidence in our proven technology. Our combination of high-performance specialized AI with low-cost consumer-grade cameras, sensors, and processors is helping more and more customers to solve the complex challenges of mapping and navigating for a wide range of autonomous machines and devices.
‍
Investors were impressed with our stable of customers and licensees, and we've continued to grow this vital aspect of our commercial success over the year. So far, in 2022, we have added 25 new licensees ranging from household names in consumer electronics to fast-moving start-ups in robotics. From industrial robotics to consumer electronics, we are landing deals with the companies leading the way. 2022 saw us secure more deals than ever before with companies that will put Slamcore at the heart of their next-generation robots. We've also recently begun works to integrate our SLAM solutions into even more processors and hardware.
‍
Navigating the Metaverse
‍
But it's no longer just about robots. Applying our technology to localization in the metaverse has opened up an entirely new market for us. We've already secured a deal to launch our first XR solution with a major electronics hardware manufacturer – watch this space for more on this exciting development.
‍
We did not neglect existing customers in 2022 either. We continued to work closely with Meta on its exciting Bombyx project that connected rural communities across Africa. Our work with intralogistics management company Synaos also continues to bear fruit, with the Synaos team winning 'Product of the Year' at the prestigious IFOY 2022 Awards.
A Growing Team
‍
New funding, new customers, and new market opportunities have also driven growth in our team. We've grown by a third this year, adding fifteen new appointments to hit a total of 45 employees. We've also hired expert talent from across the industry in all areas. The team is spearheading taking Slamcore's technology to more partners and customers. Not only that, but the deployment of a dedicated sales team building relations with key customers in China and Korea was another big milestone for Slamcore. Robotics and increasingly consumer electronics goods are demanding more and more spatial intelligence at a mass market scale. These appointments will ensure that Slamcore is the provider of choice for software in these products.
‍
And Strong Culture
‍
As we grow, we must keep a sharp focus on our culture and our values. New offices, with more space, have allowed us to create a hub for our team to work together and have fun while pursuing hybrid working practices. With nineteen different nationalities working across five different time zones, we ensure everyone has the opportunity to get together and meet face-to-face as well as virtually as often as possible. Giving people the flexibility to work in the ways that best suit them and the ability to connect, have fun and get the support they need is at the heart of the work environment we want to offer our team.
‍
2023 Ambition
‍
2022 has been a year of firsts for us and a year of acceleration toward our goals and our vision to make quality spatial intelligence available to all. 2023 promises even more. For a glimpse at what we've got planned please get in touch to arrange to see one of our demos at CES 2023 in Las Vegas. We'll be there with our algorithms running on an exciting range of robots and devices, which we can't wait to show off. Hope to see you there, and all the best for 2023.