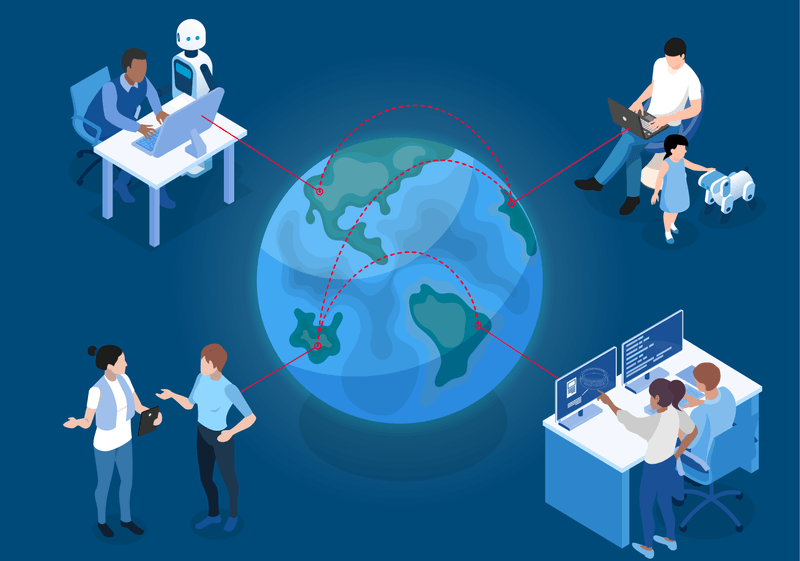 Management guru Peter Drucker famously said that 'Culture eats strategy for breakfast'. The message within this, often forgotten by scale-up businesses driving for growth, is that however good your vision and strategy are, you must have a team that actively wants to work with you to deliver them. At Slamcore, our mission to make quality spatial intelligence accessible to all is matched by our aspiration to build the greatest team ever. Culture is not an afterthought but fundamental to how we go about every aspect of our work. In the midst of cutting-edge technology, being human is our greatest achievement.
‍
A diverse team of individuals
Managing a diverse and rapidly growing global workforce can lead to an over-reliance on process and structure; individuals can quickly feel like small cogs in a big machine. At Slamcore, we've chosen a different path and put values at the heart of how individuals manage themselves. In a competitive market for talent, we want to give all our team members the power to shape their own destinies.
That's why we asked all employees to be part of the definition of our updated company values at our most recent company meeting. Held in Paris, in line with our cultural ethos, the meeting combined important work with team building and time to have fun together. Inclusion is an essential part of these regular events, and we ensure that everyone can participate wherever they are in the company and the world. For bi-annual company events, this means providing flights and accommodation so everyone can be together. Regular company meetings are always timed to be convenient across time zones so that no one feels left out.
‍
Co-created Values
Three core values, distilled from our company-wide discussions, form the foundation of our workplace culture:
1. Collaborative without limits
We thrive on our 'can-do' attitude and won't allow anything to prevent us from working together to find solutions.
2. Positive innovation through curiosity
We're doing this to have a positive impact on the world and on each other. Asking questions of each other and ourselves drives us forward.
3. Authentically eclectic
We value and celebrate each other's differences as fundamental to a rich and robust culture.
‍
Lived Every Day
Our values underpin a highly flexible and inclusive work environment that supports individuals working in ways that make sense to them. With colleagues from 19 different countries and operating across five different time zones, it is essential that people can work from wherever they need to be. Our culture is vital in continuing to attract and retain the best people to deliver on our ambitious goals. We ensure everyone has everything they need to work effectively and comfortably wherever they are. But we also want our office to be a hub where team members can meet, work and socialize. It must be an exciting place to visit. Every Wednesday is a 'Slamcore' day, where things will be happening in the office. Everyone is encouraged to meet face-to-face when it makes sense, including providing travel to the office for overseas staff.
Even when people can't get together physically, we ensure that our collaborative values are upheld. Coordinated social events such as our 'Paint and Sip' sessions are designed to work for everyone online and off. Over the coming weeks, we'll all be painting pictures under expert tutelage while enjoying a drink and a chat. Those who can't join in person have had the painting kits mailed to them, and the events are timed so that everyone can participate simultaneously.
‍
Our Best Authentic Selves
We have a great deal of fun, but there is a serious side to this. Mental wellness is essential to all of us, at work and at home. Too many businesses, large and small, pay only lip service to creating a healthy work-life balance and supporting proactive mental wellness. People work hard and dedicate large proportions of their time to their work – it is only right that they are treated well. Sometimes long hours are necessary, but they should never be the norm, nor should they be the expectation. From the top down, at Slamcore, we strive to create a supportive culture and environment that allows everyone to thrive while respecting their commitments, needs, and interests outside of work.
‍
Our Aspiration to be the Best
Success at Slamcore is not just about commercial goals. We are deeply committed to making the world a better place through the effective deployment of robotics and mixed reality technologies. We are equally committed to doing this in a sustainable, fair, and accessible way. We've recently kicked off our 'Green Team' to ensure we are doing everything possible to make our business environment positive. We also know that we need to do more on gender diversity, not only within Slamcore, but across the industry. Educating, encouraging, and welcoming more women into technical roles is a big focus for us.
Everyone at Slamcore believes that the work we are doing is important and that our technology will have a significant positive impact on the world around us. But to deliver, we must focus on giving every individual the ability to bring their whole authentic self to bear on that ambition. To do this, we understand that we need a skilled, motivated, and happy team. Helping each other be our best is at the heart of our culture. This is why Slamcore is such a great place to work and how it will continue to grow, succeed, and add value to customers and employees alike.